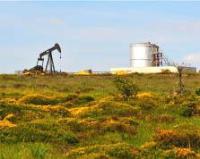 LGO announces an update on its testing operations at Drilling Pad 4 in the Goudron Field in Trinidad. A total of 506 feet of C-sand pay was perforated across the three wells and all three wells have produced oil to surface. Wells GY-672, 673 and 674 were tested in reverse order. The tests on GY-672 are continuing whilst the preliminary results of tests on GY-673 are being used to determine how best to balance production and reservoir management. The tests on GY-674 have been completed, and production will commence once surface facilities are in place.
The production testing carried out on well GY-674 has provided the anticipated engineering information. The well delivered a natural flow rate of approximately 240 barrels oil per day ('bopd') when flowed with a 8/32-inch choke. An absolute open-hole flow rate of approximately 500 bopd has been estimated from the test results.
Once the GY-673 data analysis has been completed, we expect that production from that well will be optimized by means of downhole pumping. Initial results from the tests at GY-672 suggest that a downhole pump may also be the most appropriate production approach on that well.