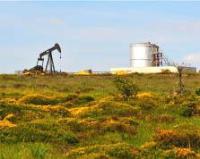 LGO is pleased to provide an update on its Goudron Field operations. Final approvals have been granted for the construction of the 2015 drilling pads with work starting immediately and expected to take several weeks. The Company has also been notified by the Petroleum Company of Trinidad and Tobago Limited ('Petrotrin') that they intend to upgrade the existing 2 7/8-inch export pipeline from the Goudron Field with a new 4 1/2-inch pipeline which will increase export capacity.
The new drill pads, designated Pad 4 and Pad 5, will be used for the next seven development wells, GY-672 to GY-680, as part of the Company's initial 30 well program which commenced in 2014 with the drilling of eight successful wells. The Company has a rig under contract from Well Services Exploration Limited, Rig-70, and expects to mobilise the rig as soon as the first pad is ready for use. Three wells will be drilled to the C-sand reservoir from Pad 4 before the rig is moved to Pad 5 where it is expected that four C-sand wells will be drilled.
The line-pipe for the new Petrotrin 4 1/2-inch export line is currently being delivered to the field and when installed will further reduce the time necessary to make oil sales from the Goudron Field.