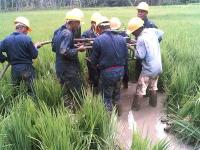 Lion Energy has received formal approval from the Directorate General of Oil and Gas (MIGAS) of the award of two separate unconventional joint studies over two highly prospective areas in Indonesia's North and Central Sumatra Basins.
In North Sumatra, Lion will lead a joint study covering an area of 4684km2 in the southeast of the basin. Under an agreement announced by Lion on 19 November 2014 Lion will operate the study with a 55% interest; and the partners in the conventional Bohorok PSC, which partly overlaps the area of the unconventional Joint Study, jointly have 45% interest.
In Central Sumatra, Lion will conduct a Joint Study over an area of 2478km2 covering part of the Bengkalis Graben, a major oil province in the east of the basin. Lion is the operator of the study with 75%, and the conventional rights holder in the partly overlapping area, has a 25% interest.