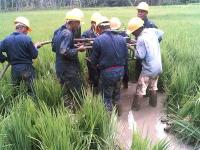 Lion Energy Ltd is pleased to report that the recently completed Oseil-26 development well in eastern Indonesia is performing at above pre-drill expectations.
The well was completed on 30 January 2014 and has been producing crude oil at an average rate of 490 bopd (12.5 bopd net to Lion's interest). This compares with pre-drill predicted initial production of 300 bopd.
Oil production from Oseil and surrounding oilfields has averaged 2831 bopd (71bopd net to Lion), an increase of 20% from the approximate 2350 bopd prior to Osiel-26 coming on line. Production currently exceeds guidance production of 2500 bopd in Lion's prospectus issued on 6 November 2013.