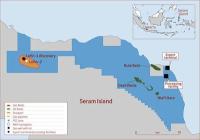 Lion Energy Limited says that the Lofin-2 appraisal well has reached 2295m MD and 13-3/8 inch casing has been run and cemented.
The well, which was spudded on 31 October 2014, has a planned total depth of 5425m MD. Lofin-2 is located in the Seram (Non-Bula) PSC in Eastern Indonesia with Lion holding a 2.5% interest.
The well, operated by CITIC Seram Energy Ltd, has progressed smoothly to date and is on-schedule. The forward program is to drill 12-1/4 inch hole to approximately 3657m MD, at which point 9-5/8 inch casing will be set, prior to drilling ahead in 8-1/2 inch hole with the top of the primary objective, the Manusela Formation, expected at approximately 4514m MD.