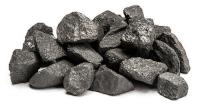 LKAB Minerals sells 1.3 million tonnes of the iron ore product MagnaDense to Wasco Coatings Europe GmbH. Wasco will use MagnaDense in the production of high density concrete, to coat the pipes for Nord Stream 2.
"We are pleased that Wasco have chosen MagnaDense from LKAB Minerals, it is a proof of our high and consistent product quality. MagnaDense has been used in many large pipe coating projects previously, as an example the Tuxpan pipeline in Mexico and the first Nord Stream pipeline. That we have been selected to supply to this project confirms our position as market leaders," Leif Boström, CEO of LKAB Minerals states.
MagnaDense is used in the production of high density concrete that will be used for the concrete weight coating of the pipes. One pipe section weighs 24 tonnes of which half is derived from the heavy concrete that will help to keep the pipe stable on the seabed.
The deliveries of MagnaDense will commence in May and be ongoing until early 2019. MagnaDense will be shipped from LKAB's port in Narvik to Wasco's coating plants in Finland (Kotka) and Germany (Mukran). The proximity to the source of iron ore and the efficient logistical solutions support the ambition to minimise the environmental impact of the project.