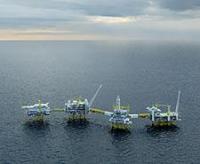 A framework agreement awarded to Lloyd's Register Consulting will provide risk management support to companies involved in developing the Johan Sverdrup project.
The leading compliance, integrity and specialist risk consultancy services group will provide a range of services in total risk assessment and safety studies. This latest project awarded to Lloyd's Register Consulting represents an extension of the company's collaboration with Aker Solutions from their initial FEED phase project.
Siri Revelsby, Senior Vice President of Lloyd's Register Consulting says: "We're extremely excited to be playing a critical part in this gigantic industrial adventure. This is a historic development and we're proud to be on board. In today's challenging environment this agreement ascertains our leading position in the market place."
In the detailed engineering phase, the total risk assessment study will cover dedicated HAZID workshops to identify and analyse major hazards. It will include in-depth risk analysis relating to the field centre, processing platform, living quarter platform, the drilling platform, and riser platform. The work will also oversee key areas including installation, hook-up, and commissioning amongst other stages of this engineering phase.