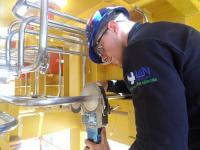 Aberdeen-based supplier of specialised manufacturing, welding and engineering services, L&N Scotland, states it is focused on strengthening its market position as it celebrates its 20th year in the subsea oil and gas industry.
Formed in 1996, primarily as a supplier of valve and actuator packages to the oil and gas services sector, L&N Scotland has developed vastly from its early days with its core competencies now focused around turnkey spool manufacture, design engineering, control system applications and innovative product integration.
Commemorating 20 years in business, L&N Scotland has initiated significant investment into its engineering department, further enhancing capabilities in engineering and design. This year, the company completed a number of strategic initiatives including the expansion of its workshop facilities and bolstering of engineering and design personnel.
The L&N Scotland facility based within the Kirkhill Industrial Estate in Dyce, Aberdeen, now compromises of segmented ferrous, non-ferrous, assembly and test workshop areas as well as comprehensive design, engineering, sales and operations offices, with supporting yard and warehouse space.
Reflecting on the company's successes L&N Scotland Chairman, Alastair Chalmers, comments, "L&N Scotland has entered its 20th year in a resilient position, and we are steadily growing our global client base whilst investing in procedures and developments to ensure that we continue to stand apart from our competitors. We are proud of the fact that many of our clients have retained business with us since we started trading in 1996, and we have been able to collaborate with them on various industry challenges using innovation and high impact 'design to manufacture principles' to drive efficiency and cost reduction."
"Through the introduction of lean manufacturing techniques and the dedication of our personnel we have developed and expanded both our manufacturing and service offering. We will continue to implement these techniques and have set strategies to continue growth over the years to come. I believe that through this we will continue to be successful in our endeavours," adds Chalmers.