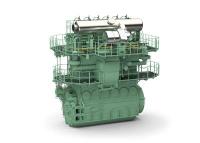 The new Wärtsilä low-pressure, 2-stroke, dual-fuel engine (DF), that meets the demand of the market, has been endorsed with an important new order. A 5-cylinder Wärtsilä RT-flex50DF engine, together with the gas valve unit and other relevant equipment, has been ordered for a new liquefied natural gas (LNG) carrier vessel being built for the Chinese ship owner and operator, Zhejiang Huaxiang Shipping Co.Ltd.
The Qidong Fengshun Ship Heavy Industry Co., Ltd in China is building the new vessel according to the Chinese Class Society (CCS) standards. The contract was signed in March, 2014. When delivered in August 2015, the 14,000 cubic metre LNG carrier will operate along the Chinese coastline to serve domestic LNG transportation lines.
Wärtsilä unveiled its low-pressure, dual-fuel technology for 2-stroke engines in November of last year. The potential impact that this offers to the merchant marine market is such that the technology is being hailed as a 'game-changer' for the industry.