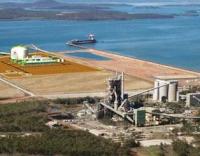 The Directors of Liquefied Natural Gas Limited are pleased to provide an update on United States Patent and Trademark Office (USPTO) patent application relating to the Company's core LNG processing design.
The Company has now completed the process for the patent to be issued by the USPTO and has been advised that it should be issued in April 2015.
The Patent will protect the Company's primary invention being a Method and System for Production of Liquid Natural Gas ("OSMR® process"). OSMR® is an innovative, simple, low cost, highly efficient, environmentally friendly, robust and low risk technology.
The simplicity of OSMR® technology results in a reliable LNG plant that is relatively simple to design, construct, operate and maintain. The required plot space is less than that needed for traditional LNG plants and the execution strategy, using standard equipment and modular construction, reduces the construction schedule.