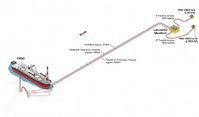 London Offshore Consultants (Aberdeen) Limited, part of the international marine and engineering consultancy LOC Group, has been appointed by Hurricane Energy Plc. to provide Marine Warranty Surveyor services for the Lancaster Early Production System (EPS) development.
The Lancaster field was first drilled by Hurricane in 2009. In 2017 the company received development and production consent for the Early Production System, which is expected to produce 17,000 barrels of oil per day (net of uptime) for a period of up to six years, whilst future development phases are assessed. The EPS development will comprise two wells tied back to the Aoka Mizu FPSO via a new disconnectable Turret Mooring System.
Hurricane has appointed Bluewater Energy Services to upgrade and operate the Aoka Mizu FPSO and fabricate a new buoy and mooring system. TechnipFMC has been contracted to install the subsea equipment, turret buoy, and mooring system.
LOC's scope of work for Hurricane Energy will include third party approval for the transportation and installation of the subsea equipment, turret buoy, and mooring system.
The appointment of LOC follows extensive services provided to Bluewater Energy Services covering the full life-cycle of the Aoka Mizu, from hook-up of the Ettrick Field in 2009 through to disconnect in 2016 and the current upgrade scope being carried out at Drydocks World in Dubai.
LOC has significant expertise and experience in this area, including the provision of marine and engineering consultancy services for seven new or existing floating production units in the UKCS in the past two years.
Adrian Torry, LOC Aberdeen's Managing Director says, "LOC is delighted to be working with Hurricane Energy on the Lancaster EPS Development which represents a significant development for the UK oil and gas industry. This award is recognition of LOC's recent and extensive experience in floating production systems and subsea developments in the North Sea and West of Shetland regions."