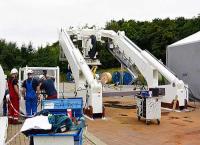 SH Group is rapidly benefitting from a new strong presence in Asia. Right before summer NorCrane, under the SH Group umbrella, announced an order for two large offshore cranes in Singapore. Now Sepro Technology, also under the umbrella of SH Group, confirms a major contract for four Launch & Recovery Systems (LARS) for another Singapore-based client.
It is fair to say that the recent acquisition of NorCrane has created significant momentum for SH Group and its sister companies, including Sepro Technology. The investment has not only resulted in local sales offices in one of the most important offshore markets. It has also attracted interest from a new group of customers, looking for competitive one-source solutions for deck equipment.
"It is no secret that the market within the offshore industry is challenged. This makes the rapid succession of contracts, that we now get, all the more satisfying. Moreover, it proves that we have done right by putting more focus on Asia and on SH Group's collective competences within high-tech offshore systems," says Finn Nilsen, SH Group Area Manager in Asia.
Sepro Technology, which is well known for its high-performance handling within ROV and subsea operations, signed last week a contract for four complete large ROV LARS systems.
"It is by far the largest order for Sepro Technology this year," says CEO, Kent Lynggaard Vinkel from Sepro Technology.
"The ROV LARS systems will be installed in the spring of 2017 on two new buildings. Each of the systems are supported by an A-Frame Dipping Platform, which is fastened to the deck and supported by one of the most reliable winch systems on the market, our in-house designed Ocean Fight winch system. This system makes launch and recovery of remotely operated vehicles to a depth of 3,400 metres possible."
With Sepro Technology and the recent acquisition, NorCrane, SH Group manifest itself as one of the strongest players in reliable and competitive solutions to the marine and offshore market. All products are backed up by SH Group's service program.