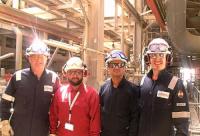 Lokring Northern (UK), provider of weld equivalent fluid and gas transfer connectors, has advanced its strategic growth plans with expansion into the Middle East.
With an initial focus on Bahrain, Qatar, Saudi Arabia, Oman and the UAE, Lokring Northern is currently servicing the region with a significant amount of technical, on-the-ground support, with a view to providing a permanent presence within the next 18 months.
Commenting on the company's expansion into the region, Lokring Northern's Managing Director, Ross Millar, says, "Despite lower welder rates in this part of the world, the speed of install and consistent connection of Lokring products are hugely beneficial to Middle Eastern companies within the oil and gas, refinery and shipbuilding industries. We have already been in talks with some major operators in the region and look forward to increasing our presence further throughout the year."
The company has expanded significantly over the past three years, strengthening its internal staff structure and diversifying into new markets.
Ross continues, "We celebrated another successful year at the end of 2016, with a move into larger premises in Aberdeen to accommodate increasing staff numbers. We're excited about further expansion, particularly as the Middle East has huge potential, and our growth in this region has allowed us to ensure we have a continuous presence of technical consultants on the ground to support our clients."
Lokring's technology provides a mechanical method for producing permanent pipe and tube connections and is a safer, faster, lower cost alternative to welded and flanged pipework which eliminates the need for hotwork and the associated health and safety issues.