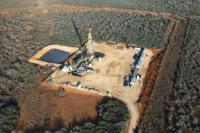 Lonestar Resources Ltd. provides an update on the Company's initial successes in its drilling and completion activities in southern Gonzales County, and an update on the Company's 2014 exit rate production levels.
In Quarterly Report for its third quarter 2014, Lonestar projected a 2014 exit rates of 6,500 to 7,000 BOEPD.
Lonestar disclosed that net production for the month of December, 2014 averaged 6,551 BOEPD. However, during December, due to delays in completion of third-party gas sales lines, the Company was forced to flare wet gas production associated with its Meiners, Dunn, Scasta and Harvey Johnson wells.