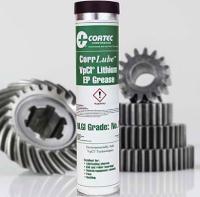 When it comes time to lubricate bearings, fans, chassis, or other metal areas where grease is applied, Cortec's CorrLube™ VpCI® Lithium EP Grease offers longer lubrication enhanced with superior corrosion protection—even for use on electrical connections.
CorrLube™ VpCI® Lithium EP Grease is a lithium complex grease formulated with premium quality, severely hydro treated base stock. It provides excellent resistance to oxidation and has high temperature stability; it is suitable for both operating and lay-up conditions. This lubricant's formula is specifically designed with superior corrosion inhibiting properties against salt water, brine, H2S, HCl, and other corrosive agents. In addition, it incorporates Vapor phase Corrosion Inhibitors (VpCI®) for areas not in direct contact with the grease.
Advantages of CorrLube™ VpCI® Lithium EP Grease include a cleaner application experience with decreased dripping and spattering. It lubricates for longer periods of time and increases the effectiveness of seals to keep out contaminants. This is an excellent product for use on equipment that operates intermittently.
CorrLube™ VpCI® Lithium EP Grease remains effective even in extreme operating conditions (i.e., high temperature, high pressure, low speed/high pressure, and shock loading) and aids in the suspension of solid additives such as graphite, molybdenum, disulfide, etc. Its thicker film consistency allows it to operate on worn parts, provide surface protection against movement, and reduce noise level.