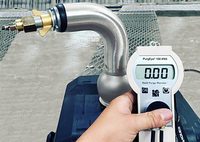 Measuring the oxygen level before, during and after welding stainless steel is crucial to achieve oxide free, zero colour welds. During stainless steel welding, the oxygen content must be purged down to a level as low as 100 ppm.
The low cost, hand held, battery operated PurgEye® 100, designed and developed by Huntingdon Fusion Techniques HFT® is perfect for welding stainless steel, reading accurately from atmospheric oxygen level (20.94%), right down to 100 ppm (0.01%).
A recent customer says, "The PurgEye® 100 is one of the best, if not the best residual oxygen detector instruments on the market today. With its digital residual oxygen level LCD screen readouts measuring as low as 100 ppm and its large user friendly viewing screen making it easier for me to read. The PurgEye® 100 also has a great accuracy of oxygen, with speedy measurement's being displayed within seconds."
The PurgEye® 100 is IP65 rated and comes with leak-tight push buttons, auto calibration features, vacuum-sealed leak-tight probe assembly, wrist/neck strap and tripod mount.
The extra long life sensor provides approximately 18 months life before it requires changing. A low sensor indicator will appear on the screen, warning that a new sensor is required. Once that icon appears, it provides the user with adequate time to obtain a new sensor, which can be fitted like changing a battery and the monitor can be re-calibrated easily by the user.
With a clear, easy to read LCD screen, the PurgEye® 100 boasts a 24 mm high display with features such as a low battery icon as well as the low sensor icon. When the monitor is not in use, an automatic sleep mode activates to conserve battery life.
The Weld Purge Monitor® was invented by HFT® in the 1970's and with over 40 years of innovation, design and manufacturing experience, the company now has a Family of PurgEye® Weld Purge Monitors® to measure oxygen levels from atmospheric content (20.94%) down to 1 ppm (accurate to 10 ppm).
Ron Sewell, Chairman for HFT® says, "All of Huntingdon Fusion Techniques HFT®'s Weld Purge Monitors® and Inflatable Tube, Pipe and Pipeline Weld Purging Systems are manufactured in the UK. We do not sacrifice on quality. We guarantee to help you achieve zero colour welds, time and time again."
It is important not to use oxygen analysers or other oxygen safety monitors, they are calibrated for accuracy at ambient conditions and therefore not suitable for measuring purge levels at 0.01% as the PurgEye® 100 does.