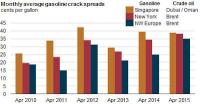 Gasoline crack spreads in the United States, especially on the U.S. East Coast, have reached several-year highs in recent months. Crack spreads, which reflect the difference between wholesale product prices and crude oil prices, are a good indicator of refiner profitability.
For example, in April 2015, wholesale conventional gasoline in New York Harbor averaged $1.79 per gallon (gal), and the Brent crude oil spot price averaged $1.41/gal ($59.39 per barrel, divided by 42 gallons per barrel). The difference in prices results in a crack spread of 38 cents/gal, the highest crack spread for the month of April since 2007.
Strength in gasoline crack spreads can also be seen in regions beyond the United States. In the European gasoline market, the Northwest Europe gasoline-Brent crack spread averaged 35 cents/gal in April, the highest since at least April 2010. In Asia, the Singapore gasoline-Dubai/Oman crack spread averaged 39 cents/gal in April, similar to levels last year and 3 cents/gal below the recent high in April 2012.
Because gasoline specifications, refinery maintenance schedules, and seasonal demand patterns are not uniform across the world and can influence gasoline crack spreads at different times of the year even within a region, comparing crack spreads on a year-over-year basis allows for a better understanding of the strength of gasoline prices in a given region.