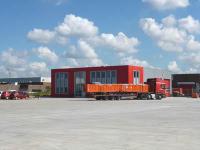 Lubbers Transport Group (LTG), the upstream oil and gas logistics company, has opened its new base in IJmuiden, Holland, following increased business in the region.
The 6,000m2 multipurpose base – which can easily be enlarged when needed - was opened in September and already has 17 vehicles operating from the facility with almost 20 drivers. It also boasts an internal storage capacity of 250m2 and external yard space covering 5.750m2. It is ideally located in IJmuiden Harbour industrial zone, providing efficient access to the vital ferry link that runs to Newcastle, in the UK.
Lubbers operations manager Marc Stroosma commented: "Service equipment including drill bits, drill pipes, pumps and reels are constantly moved between The Netherlands and the United Kingdom so the location of the base is fantastic.