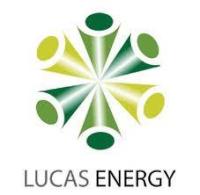 Lucas Energy, Inc. announced that on April 21, 2014, it completed the sale of equity securities as previously announced, to funds managed by Ironman Energy Master Fund and John B. Helmers (associated with Long Focus Capital Management). Specifically, the Company sold 3,333,332 units at $0.60 per unit for total gross consideration of $2,000,000 to such investors.
The units are each comprised of one share of common stock and 0.50 of a warrant to purchase one share of the Company's common stock at an exercise price of $1.00 per share with a five-year term.
The Company plans to use the net proceeds from the offering (approximately $1,880,000) to pay down expenses related to drilling, lease operating, and work over activities and for general corporate purposes, including general and administrative expenses.