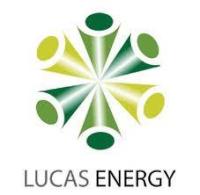 Lucas Energy, Inc. has completed the sale of its 100% working interest in oil and gas leases and wells/wellbores in Madison County, Texas for $700,000. The cash transaction includes approximately 450 net mineral acres primarily in the Buda and Glen Rose formations.
Management determined this acreage to be non-core and has utilized the proceeds to purchase leaseholds in Gonzales County, Texas in addition to debt service and for general corporate purposes.
Anthony C. Schnur, Lucas' Chief Executive Officer, commented, "We continue to narrow our strategic focus on core Eagle Ford shale activities, and we plan to seek opportunities such as the Madison County property sale to streamline our asset base.
"In keeping with this strategy, we are realigning our board of directors to be more consistent with our intended direction. We are thankful for the service of Ken Daraie, Ryan Morris and Andrew Krusen who have stepped down following their diligent efforts through this transitional period.