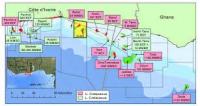 LUKOIL Overseas (operator of LUKOIL Group's overseas upstream projects) has completed drilling its first offshore exploration well, Capitaine East-1x, at block CI-101 in the Republic of Côte d'Ivoire.
The well penetrated through 140 meters of sandstone from a Turonian formation. The survey confirmed the presence of hydrocarbons, indicating the oil potential of the area.
The Capitaine East-1X well target depth exceeds 5,200 m; the water depth at the well location exceeds 2,000 m. Drilling was conducted using the Eirik Raude, a 5th generation self-propelled semi-submersible drilling rig.