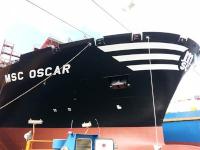 LUKOIL Marine congratulates MSC on launching the MSC OSCAR, the largest container vessel in the Mediterranean Shipping Company (MSC) fleet.
With the launch of the MSC OSCAR, Mediterranean Shipping Company (MSC) sets a new record: with its 19,224 TEU capacity, the latest addition to the MSC family is the largest container vessel ever built1. It was officially inaugurated at the Daewoo Shipbuilding and Marine Engineering (DSME) Shipyard in South Korea on 8th January 2015 and will service trade routes between Asia and Europe.
"Congratulations to MSC on this fantastic achievement! We are very proud to be the lubricant supplier for the MSC OSCAR", says Jan Thiedeitz, Director of LUKOIL Marine Lubricants. The company specializing in marine lubricants is an important business partner for MSC, supplying lubricants to more than 100 vessels in the MSC fleet.