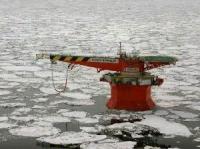 LUKOIL has released its 2014 earnings this week.
Sales revenues were up by 1.9% from 2013, totaling $144,167 million. The company's 2014 net income reached $4,746 million, affected negatively by the rouble devaluation over 2014.
Against a backdrop of the falling oil prices, LUKOIL displayed a steadily positive year-on-year dynamic, increasing its commercial hydrocarbon production by 5.1%, up to 2,314 thousand boe per day – the figure stands in stark contrast to the pessimistic predictions for the Russian oil market, whose cumulative output is expected to decline by ca. 8% (800,000 bpd) in the next two years as key Russian market players fold back their drilling operations in Siberia.
Even so, LUKOIL Vice President Leonid Fedun, speaking at a teleconference during the Capital Markets Day in London, was cautiously optimistic in his assessment of the future of the oil market. "It wouldn't be a surprise for me if I were to see oil prices up to $100 per barrel, for example," he said.
For LUKOIL itself, which accounts for 17% of Russia's total crude oil and 2.1% of the world's total production, things look equally bright, according to Mr Fedun. LUKOIL's impressive free cash flow of nearly $1 bn ($928 million) points to the company's robust financial health, allowing it to handle its debts without straining its resources.
Mr Fedun commented: "This year it's expected that around $2 billion in loans will be paid off and we currently don't see any obstacles in paying off the loan or in refinancing and this in no way influences our abilities to pay our dividends. We intend to increase our dividend payments, which can reach up to 50% of the company's profits without hurting LUKOIL."