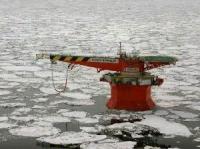 PJSC LUKOIL passed a 5 million tonnes (38.6 million barrels) mark in oil production at the Yuri Korchagin field in the Caspian Sea.
Production at the field was launched in April 2010. Its proven oil reserves are 113 million barrels. In 2014, the field produced 1.5 million tonnes (11.3 million barrels) of oil.
The offshore platform that produces oil at the Yuri Korchagin field was built in Russia. The platform operates under a zero discharge principle whereby all types of industrial and household waste is taken onshore and disposed of safely.