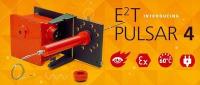 LumaSense Technologies, Inc.® introduced its next generation petrochemical infrared sensor, the PULSAR 4 at ADIPEC 2014. With installations at over 550 petrochemical facilities worldwide, the PULSAR 4 is LumaSense's latest addition to its E2T line of petrochemical infrared sensors.
Oil & Gas operations are heavily dependent on combustion based processes to supply the world's growing energy needs. The PULSAR 4 is intended for monitoring the Refractory and Gas temperatures inside Sulfur Recovery Units, Sulfur Burners, and Thermal Oxidizer Furnaces frequently found at these facilities.
"Any one of these vessels can force a shut down that will cost $1M or more per day", said LumaSense CEO, Steve Abely. "Unplanned downtime eats into planned profits, whereas increasing uptime increases profit. The PULSAR 4 is a condition based maintenance system to protect refinery profits", continued Abely.