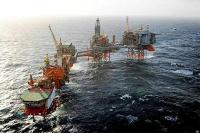 The Brynhild field commenced production on 25 December 2014. The Brynhild field, located on PL148 in the Norwegian sector of the North Sea, is a subsea tie-back to the Pierce field, operated by Enterprise Oil Ltd (a subsidiary of Shell U.K. Limited), in the UK sector.
The Brynhild field is estimated to contain gross reserves of 23.1 million barrels of oil equivalents and production is currently in excess of the forecast gross plateau rate of 12,000 bopd. Drilling of the third development well is ongoing and the fourth and final development well will be completed in 2015.
The production facility for the Pierce and Brynhild fields is the Haewene Brim FPSO which is owned and operated by Bluewater.