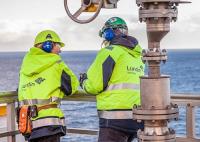 Lundin Petroleum AB has announced that its wholly owned subsidiary Lundin Norway AS has commenced the 2016 exploration and appraisal campaign in the Loppa High area in the southern Barents Sea with the winterised Leiv Eiriksson semi-submersible drilling rig.
The 2016 drilling campaign consists of three wells commencing with the re-entry of the Alta-3 appraisal well 7220/11-3A in PL609 which was successfully drilled last year on the eastern flank of the Alta discovery. The objective of the Alta-3 re-entry is to deepen the well to further assess the quality of the Permian carbonate reservoir section as well as to conduct a production test. The original Alta-3 well encountered a gross hydrocarbon column of 120 metres and all three Alta wells drilled to date have proven pressure communication.
The Alta discovery is estimated to contain gross contingent resources of between 125 and 400 million barrels of oil equivalents (MMboe). Following the completion of the Alta-3 well the rig will move further north on PL609 to re-enter the suspended Neiden exploration well 7220/6-2 which was partially drilled last year. The Neiden well was suspended immediately above prognosed reservoir section in October last year due to winter restrictions for the drilling rig (Island Innovator). The Neiden prospect is estimated to contain gross unrisked prospective resources of 204 MMboe.
The third well to be drilled in the 2016 campaign is an exploration well targeting the Filicudi prospect on PL533 to the northwest of the Alta discovery and south of the Statoil operated Johan Castberg discovery. The Filicudi prospect is expected to contain Jurassic sandstone reservoir analogous to the Johan Castberg discovery. The Filicudi prospect is estimated to contain gross unrisked prospective resources of 258 MMboe. Lundin Norway is the operator of both PL609 and PL533 and holds a 40 percent and 35 percent working interest in these respective licences.
The Leiv Eiriksson drilling rig has been contracted for three firm well slots with an additional six optional well slots.