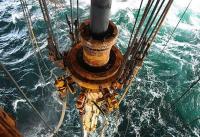 Lundin Petroleum AB, through its wholly owned subsidiary Lundin Norway AS (Lundin Norway), announces the completion of wildcat well 6608/2-1S. The well was drilled in PL330 about 60 km east-southeast of the Aasta Hansteen gas field in the Norwegian Sea.
The exploration well 6608/2-1S, operated by RWE Dea Norge AS, was targeting the Sverdrup prospect. The well confirmed the existence of an active petroleum system but did not encounter reservoir rocks. The well is being plugged and abandoned as a dry hole. The well is the first exploration well in PL330.
Alex Schneiter, Chief Operating Officer of Lundin Petroleum comments; "Despite the results of this well we still believe the Utgard High has interesting exploration potential. We will review the results before determining our forward program." The well was drilled to a vertical depth of 5574 metres below the sea surface, and was terminated in rocks of Lower Cretaceous age. The well was drilled with the rig Transocean Winner.