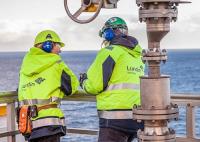 Lundin Petroleum AB has announced that its wholly owned subsidiary Lundin Norway AS has commenced drilling of appraisal well 7220/11-4 (Alta-4) on the Alta discovery in PL609, located on the Loppa High in the southern Barents Sea.
The Alta-4 well is located approximately 2 km south of the original discovery well 7220/11-1 and is the fourth well to be drilled on the Alta discovery. The main objective of the Alta-4 well is to further appraise the Alta discovery and to provide a calibration point for the drilling of a horizontal well for a possible extended well test that is being planned for 2018. The Alta discovery is estimated to contain gross contingent resources of between 125 and 400 million barrels of oil equivalents (MMboe).
The Alta-4 well will be drilled by the semi-submersible drilling rig Leiv Eiriksson and is expected to take approximately 65 days.
Lundin Norway is the operator of PL609 with a 40% working interest.