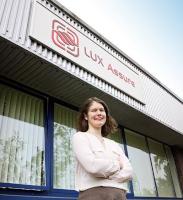 LUX Assure, a specialist in the provision of chemical monitoring and management solutions, has re-developed its successful CoMic™ technology to create the world's first operator-deployable corrosion inhibitor micelle detection tool.
The development of CoMic was inspired by technologies being used in the life sciences and was first deployed in 2012. It works to maintain asset integrity through delivering effective corrosion management, by informing the management of corrosion inhibitors and providing data on the optimal level of corrosion inhibitor.
CoMic identifies the presence of corrosion inhibitor micelles in oilfield fluids, by using these nanoscale aggregates of chemical as a marker for optimal dosage. Previously all testing was done on-site by LUX Assure specialists, but in response to a direct call from oil and gas operators LUX has redeveloped CoMic into a solution which can now be deployed in the field by on-site personnel, with minimal training required.
Emma Perfect, CEO at LUX Assure, explains the catalyst behind the new product: "The redevelopment of CoMic as an on-site, operator-deployable testing kit has been in direct response to feedback from both our clients and the wider industry, who have witnessed first-hand how CoMic can enhance their corrosion management regimes."
"Until now, micelle detection required LUX personnel to undertake on-site sample testing. Not only can this cause logistical issues, and additional costs for clients, but the process can also be delayed whilst travel is arranged and bed space sought. A simple product that can be deployed by existing personnel alleviates these issues, reducing costs and logistical requirements. It also allows operators to deal with any concerns more promptly, and to look at trends in corrosion inhibitor availability over time," she continues.
The newly redeveloped technology aligns with a call from industry to upskill local workforces. Perfect continues, "On-site staff, be they from operator or service companies, can now be trained to gather and test samples in situ. The instrumentation is robust and simple to operate, resulting in easier, and therefore more frequent data collection."
"In turn, this means better ongoing monitoring and control of assets which may be subject to corrosion. The data collected by CoMic remains critical to system performance and associated cost efficiencies, by detecting whether pumps are operating at optimum levels, or require an adjustment of corrosion inhibitor dosage. As an oil and gas technology firm which is focused on innovation to address the oil and gas industry's most prominent concerns, LUX Assure continues to invest in research and development to develop an industry-leading portfolio of solutions," Perfect adds.
LUX Assure products, CoMic™ and OMMICA™, together represent a revolution in monitoring and managing difficult-to-detect chemicals on-site in oil, condensates and water, specifically the thermodynamic hydrate inhibitors and corrosion inhibitors used to protect oilfield assets, on and offshore.
LUX will be exhibiting at this year's ADIPEC on stand 4110.