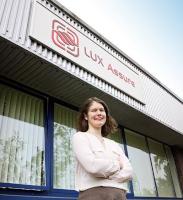 LUX Assure, a specialist in the provision of chemical monitoring and management solutions to the oil and gas industry, has launched TraxBio™, a world first in biocide mapping.
TraxBio, a first of its kind technology, maps biocidal surfactants in oil and gas systems using the chemicals' propensity to form micelles. Certain biocides contain some level of micelle-forming surfactants; usually quaternary amines to disrupt biofilms on pipe surfaces. These micelles are formed of nanoscale clusters of the biocide chemical, which are detected with LUX Assure's TraxBio technology.
This chemical mapping tool enables better informed decisions about when and how much biocide to dose. Cost savings will be generated where overdosing is shown, and more confidence in asset integrity and microbial management will result where risks from sub-optimal biocide application are highlighted.
As part of the development of TraxBio, LUX trialled the technology at a large US onshore facility to understand the path of the chemical through the system and inform dosing.
Samples were taken from across the site at various time points during a biocide batch treatment, with these points chosen to coincide with the passing of the chemical slug. Testing to determine the presence of micelles was conducted in the on-site laboratory.
Results from the trial provided a clear picture of the journey of the chemical through the system. Importantly, areas which required additional dosing were identified which alerted the operator to a potential biofouling risk.
Emma Perfect, CEO at LUX Assure says, "Biocide treatments need to be reviewed and adjusted to ensure the dose is based on actual performance, however in the past it has been difficult to find a simple test which can be used on-site. Common detection methods include functional tests, which focus on whether the microbes in the system are alive, dead or inactive. This can involve a variety of tests, such as culturing, flow cytometry and ATP tests, however these can be time-consuming, may not be suitable for on-site testing and do not provide all the information required.
"Driven by feedback from operators that LUX works with, we identified the opportunity to further develop CoMic™, part of our existing range of solutions, to create TraxBio and we are excited to launch this product to the market. Continued testing and feedback will allow us to further hone the potential applications of this world-first product, and as such we are actively seeking comments and opinions from technical industry professionals on its practical use in the field," adds Perfect.
LUX Assure products, CoMic™, OMMICA™ and TraxBio™ together represent a revolution in monitoring and managing difficult-to-detect chemicals on-site in oil, condensates and water, specifically the thermodynamic hydrate inhibitors, corrosion inhibitors and biocides used to protect oilfield assets, on and offshore.