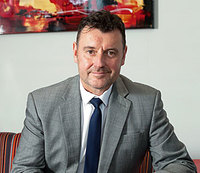 LUX Assure, specialist in chemical monitoring and management for the global oil and gas sector, has strengthened its team with two important new appointments.
Tony Evans joins LUX as the newest member of the global business development team for its corrosion inhibitor monitoring product, CoMic™. With 18 years of experience in sales, marketing and business management, Tony has held positions at Synergi Solutions, Bibby Offshore and Nautronix. Most recently, Tony was Sales and Marketing Director at Deep C Group where he developed and implemented a successful growth strategy which played an integral part in growing the business.
LUX's technical team has also been bolstered with the appointment of scientist Harry Grover. Having graduated from the University of Sheffield with a master's in Chemistry, Harry brings three years of technical and research experience to LUX, most recently working as senior assistant scientist at Charles River Laboratories.
Commenting on the new appointments, CEO Emma Perfect says. "We are delighted to welcome Tony and Harry to LUX at the end of a very busy year. Both gentlemen bring a pertinent skill set to our business – Tony, a great deal of senior management and business development experience in the international oil and gas industry; and Harry, the laboratory experience needed to allow LUX to continue further developing our product range and its applications."
"We are set to finish 2017 in a strong position, and still have further product announcements to make in the coming weeks. This provides us with an excellent platform for continued growth in 2018, and we need talented, enthusiastic individuals to help us fulfil our ambitions. Tony and Harry are fantastic additions to our team," adds Perfect.
LUX Assure products CoMic™, OMMICA™ and recently launched TraxBio™ together represent a revolution in monitoring and managing difficult-to-detect chemicals on-site in oil, condensates and water, specifically the thermodynamic hydrate inhibitors, corrosion inhibitors and biocides used to protect oilfield assets, on and offshore.