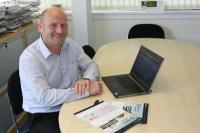 LUX Assure has appointed Duncan Baillie as business development manager, OMMICA™ product line.
Mr Baillie joins LUX Assure from Roemex Ltd, where he held the position of international sales manager for four years. Roemex is a supplier of tailor-made, speciality production chemicals to global oil production companies. Prior to this, he managed business development for Biocatalysts Ltd in his role as sales manager, where he was responsible for successfully driving international sales.
In his new role, which will be based at LUX Assure's head office in Edinburgh, Mr Baillie will be responsible for global business development and sales of the company's OMMICA™ product. This newly created position will include developing a detailed business plan and marketing strategy for the technology, and building relationships with key agents and distributors to develop new business opportunities globally.