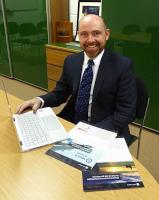 Oil and gas technology firm, LUX Assure, who specialise in providing onsite chemical monitoring and management solutions, has strengthened its business development team with the appointment of Paul Gavin as business development executive for the company's innovative technology, OMMICA™.
Gavin joins LUX Assure from UK contamination monitoring specialist, MP Filtri UK Ltd, where he spent three years playing an integral part in developing new markets for the company's products across Scotland and Norway. Prior to this, he managed business development for Bluewater Filterclear and spent four years at Lokring UK in key roles including consultant, sales manager and business development engineer.
In his new role, which is based at LUX Assure's head office in Edinburgh, Mr Gavin will be responsible for global business development activity for OMMICA™. The position includes developing a business strategy for the technology and working with agents and distributors to develop new business.
Emma Perfect, CEO of LUX Assure, says, "We are delighted to welcome Paul to the LUX team. His excellent track record and experience will be an asset in helping us to identify and develop opportunities in both new and existing markets. I have no doubt that Paul's appointment will be instrumental in achieving our ambitious growth plans for OMMICA™, and look forward to strengthening our global presence as a result."
OMMICA™ is a detection kit designed for use onsite, on or offshore, to determine the concentration of methanol or mono-ethylene glycol (MEG) in oil or water. The presence of these chemicals in hydrocarbon fluids can cause serious issues during processing, reducing the quality and value of produced fluids. As a consequence, refineries and terminals often impose limits on the acceptable level of such chemicals, and exceeding these can incur huge fines for operators.
Commenting on his new role, Gavin says, "I'm delighted to be joining LUX Assure to further build upon its significant international growth. I look forward to delivering the strategic results required for future success, and I'm pleased to be working with such an innovative, fast-growing company."
To further increase its presence in the UK, Australia and Malaysia, LUX Assure has appointed a regional agent to stock and distribute OMMICA™ to existing and potential customers.
Perfect continues, "The appointment of our agent to represent OMMICA™ across three of our target regions is a significant milestone for us. We know that there's a real demand for our products and services in these specific areas, so this partnership reflects our commitment to serving our customers and expanding our presence both locally and internationally."