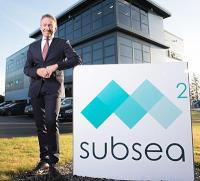 M2 Subsea, the global independent provider of ROV services, has secured the seal of approval from ISNetworld (ISN) in the US for its Safety Management System.
Following an evaluation of the company's internal system for managing its health and safety, M2 Subsea met the required standards from the global leader in contractor and supplier management.
ISN is an internationally recognised resource for connecting companies with safe, reliable contractors and suppliers and is designed to meet internal and governmental record keeping and compliance requirements. It measures key performance indicators among workers in meeting industry needs and regulations.
Mike Arnold, chief executive officer of M2 Subsea, commented: "Over the past couple of years, the increase in turnover of personnel has been a problem for some companies, often having to take on new personnel with less experience or asking employees to do more with less – all creating greater potential for incidents.
"At M2 Subsea, commitment to the quality and safety of our workers is of the utmost importance, so it's great to see our efforts to track compliance and training meets the high standards required by ISNetworld and the clients who use this service to identify companies they wish to work with.
"The transparency the ISN membership offers will further showcase the robust ROV services company we are building both in the Gulf of Mexico and across the world."
ISNetworld provides companies with the tools required to measure their health and safety performance, identify strengths and weakness and assess how they can drive improvement across the business. It serves as a forum for sharing industry best practices and benchmarking resources, leading efforts to improve the efficiency and effectiveness of contractor management systems.
With bases in the UK and US, M2 Subsea is the largest independent provider of ROV services, focused on reducing costs and risks to meet the demands of the low oil price environment.