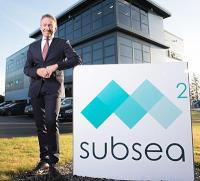 M2 Subsea, the global independent provider of ROV services, has been awarded a raft of industry certifications from DNV GL for its management system standards, just seven months after starting up.
The Aberdeen-headquartered company received two of the internationally recognised ISO certifications for its quality management systems, both to the latest 2015 standards. The ISO 9001: 2015 promotes the adoption of a process approach and underpins M2 Subsea's commitment to consistency, continual improvement and customer satisfaction. The accreditation was awarded following an independent assessment of M2 Subsea's quality management.
The ISO 14001: 2015, which is aligned with the 9001: 2015, sets the requirements for environmental management systems. The accreditation covers business areas including operations, leadership, planning and support to ensure the company meets all environmental objectives as part of its daily operations.
Mike Arnold, chief executive officer of M2 Subsea, comments, "We are thrilled to have achieved a number of DNV GL accredited certifications, only seven months after M2 Subsea was launched. The certificates are a huge testament to the quality of work our teams have already provided and our continued efforts for improvement."
also received the OHSAS 18001: 2007 certificate which is an internationally recognised standard for Occupational Health and Safety (OH&S) management systems. The certification supports businesses in implementing the policies, procedures and controls required to achieve the best possible working conditions and workplace health and safety.
Arnold continues, "Safety and environment is one of our core values and is always at the forefront of our operations. We achieve this through management, training, processes and a passion to deliver. To be able to assure our clients with an official accreditation is fantastic news for M2 Subsea."