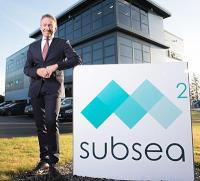 M2 Subsea, the global independent provider of ROV services' has had its ability to deliver high quality services to the oil, gas and renewables sectors verified by Achilles FPAL.
The Aberdeen-based company, which launched in 2016, was audited under the Achillies programme. The extensive independent assessment determines an organisation's capabilities across several areas including QHSE, competence and training.
Achillies FPAL, one of the world's largest service providers of global supply chain risk management, works on behalf of more than 860 buying organisations to collect, validate and maintain essential data about more than 133,000 suppliers. This allows organisations to gain visibility of their suppliers' capabilities and compliance before making important sourcing decisions. With one standardised approach, organisations can raise standards consistently, and easily connect with credible and qualified suppliers worldwide.
Mike Arnold, chief executive officer of M2 Subsea, comments, "Our commitment to quality and safety is always of the highest importance, so it's great to see our efforts recognised by Achillies. These acknowledgments are a huge testament to the quality of work our teams have already delivered and our continued efforts for improvement."
Malcolm Wilson, Director of Achilles FPAL, says, "By participating in the FPAL Verify Audit programme, M2 Subsea has demonstrated a clear commitment to meet the high QHSE, competence and training standards that this industry correctly demands. The Achilles FPAL Verify programme includes an important and mandatory commitment to continuous improvement which meets the demanding requirements of this industry. This will help put the company in the best possible position to secure a pipeline of work opportunities from major oil and gas buyers."
The verification comes just one month after M2 Subsea was awarded two internationally recognised ISO certifications, 14001: 2015, 9001: 2015 and OHSAS 18001: 2007, for its quality management systems, both to the latest 2015 standards.