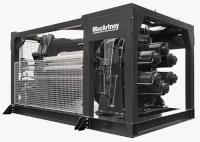 Canyon Offshore Inc., the marine contracting unit of Helix Energy Solutions, has opted for a MERMAC electric winch solution to empower the safe and efficient handling of ROV systems on board the latest two additions to the Grand Canyon family of advanced offshore support vessels.
MacArtney has supplied a total of four winch systems, all featuring active heave compensation (AHC) allowing Canyon to launch, operate and recover their ROVs under rough sea conditions.
The Grand Canyon vessel range comprises three identical ships (Grand Canyon I, II and III) delivered between 2012 and 2016. All the 'Grand Canyon' vessels are delivered with the latest technology and powerful systems in order to maximise performance, flexibility and (cost) efficiency. The vessels are able to perform a broad range of subsea operations with high manoeuvrability and DP3-class station keeping for enabling work in severe weather conditions. All Grand Canyon vessels will feature a 250 tonne heave-compensated crane, as well as dual ROV systems.
Installed inside the port and starboard hangars of the Grand Canyon II and III, each of the MacArtney MERMAC R40 winches will be utilised to deploy two each 3,000 metre rated work class ROV systems which form the backbone of the subsea intervention toolkit of each vessel. Enabled by an integrated AHC system, the winches are able to actively filter out the effects of vessel motion (heave, pitch and roll) hereby allowing Canyon to expand its window of ROV operation and substantially reduce weather related downtime.
"MacArtney always aims to be more than just a vendor," says MacArtney Inc. President, Lars Hansen. "We proactively strive to support our customers all the way – from project draft to delivery and beyond. Downtime definitively costs more than ever and in the light of the challenging circumstances which our industry must currently navigate, working together to maintain a strong focus on system durability and service life through dynamic after-sales support is an absolute prerequisite to success."