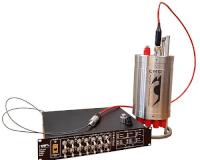 Newly established MacArtney Canada office has successfully delivered EMO multiplexer systems designed to offer up to 2,000 watts of DC power distribution.
Unique System LLC (USA), a Unique Maritime Group company, is an integrated turnkey subsea and offshore solution providers based in New Iberia, Louisiana and Houston, Texas. The company specialises in the supply of equipment for sale and rental to the diving and offshore industries in the Gulf of Mexico region.
Unique System LLC, Houston, has taken delivery of two EMO DOMINO-7 Mk-2 fibre optic multiplexer systems which are to be added to Unique System's ROV rental pool of products.
The EMO DOMINO-7 Mk-2 has been designed to offer up to 2000 watts of DC power distribution from a universal AC supply with power controlled by rugged locking switches at the DOMINO-7 topside mux rack. This multiplexer system offers a range of video, Ethernet, and serial data channels over a single or redundant fibre optic telemetry system. The system is rated for 3000 meters ocean depth.
The DOMINO-7 line is the most compact form-factor of working class ROV multiplexer systems available on the market today. The DOMINO-7 MUX system remains flexible to user requirements and can be rapidly reconfigured to meet the power and protocol needs of a large number of ocean tools and devices.