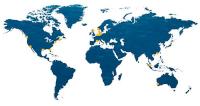 Business acquisition of EMO Marine Technologies Ltd. (EMO Marine) consolidates MacArtney's presence on the Canadian east coast. Acquiring the sound and well-established Canadian company ensures optimum positioning of the 6th regional operation in the North American market.
Canadian manufacturer of subsea communication systems, EMO Marine, is the latest acquisition of the MacArtney Group. EMO Marine is a technology company founded in 2012 specialising in engineering and manufacturing of a range of fibre optic video/data transmission systems appropriate for various marine and subsea applications.
MacArtney sees great potential in the ever growing marine sector on the east coast of Canada which is cantered around Nova Scotia. The acquisition executes MacArtney's commitment to being a global provider of underwater technology solutions with strong local presence.
With the recent acquisition, MacArtney inaugurates the MacArtney Canada Ltd., which will be run as an independent unit under the MacArtney Inc. umbrella as the 6th regional operation in North America and serve MacArtney's main markets being oil and gas, ocean science, defence, marine construction, fisheries and marine renewables, including OEMs, shipyards and other suppliers catering to these markets.
Along with maintaining manufacturing of the current EMO Marine product line, MacArtney Canada Ltd. will be responsible for marketing and selling the entire MacArtney product and service portfolio, including some agency products.