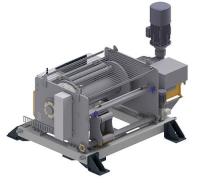 Robust and energy-efficient offshore cable handling equipment from MacArtney ensures safe transport of array cables and export cables from the seabed onto the substation decks of Hornsea Project One offshore wind farm.
Hornsea Project One Offshore Wind Farm is located in the North Sea 14 km off the Danish west coast. The wind farm is equipped with three offshore substations. These substations form the heart of the wind farm and collect and export the power generated by turbines through specialised submarine cables.
The scope of supply of this DONG Energy order for the Hornsea Project One Offshore Wind Farm covers three MacArtney 160 kN electrical cable pulling winches including three comprehensive spare parts packages for each of the three winches. The purpose of the winches is to bring array cables and export cables from the sea-bed onto the substation decks. The power cables are to be pulled through a total of 15 J-tubes onto each sub-station for connection. The actual winch is rotatable for direct 360 degrees operation and the pull is generated through 250 m Ø32 Dyneema rope.
MacArtney supplies additional equipment consisting of a DNV approved password-secured 'capacity reduction mode' which enables cable installers to use smaller sheave blocks to install the inter array cables. In addition, the supply includes an integrated data logger with an extra large 15.4 inch HMI, and 360 degrees rotation for optimised operation, which reduces the costs of reversible units and sheave blocks. Additionally, Dyneema ropes have been chosen for reasons of simplified operation.
Being subject to great demands on performance and reliability on the part of the customer, the scope is design-ed and manufactured according to DNV/GL 2.22 certification, to CE marking, and to LOLER.
We are happy to be part of this project. We believe in setting the bar high and the project reflects both good team work and long-standing competences when it comes to project management, designing, engineering, and constructing appliances required by the offshore wind sector, states Søren Hartvigsen, Technical Director of MacArtney Manufacturing.
MacArtney specialises in the design and manufacture of offshore cable handling systems for the renewable energy industry, in particular the offshore wind sector and its electrical infrastructure. The MacArtney cable-pulling winch systems serve an important function: to help the substations stabilise and maximise the voltage of power generated offshore, reduce potential electrical losses, transmit electricity to shore, and do so in a manner that supplies the greatest return on investment.
Having built up expertise as a multi-disciplined engineering, procurement, and construction contractor, MacArtney delivers challenging subsea projects from concept to completion. Being a privately owned corporation with group headquarters in Esbjerg on the west coast of Denmark, MacArtney Underwater Technology has supplied products and engineering solutions for almost four decades.