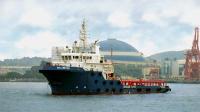 MacGregor, part of Cargotec, has secured new offshore winch contracts from three Chinese shipyards, Fujian Southeast, Fuzhou Baima and Guangdong Yuexin Ocean Engineering. The winches are destined for 22 anchor handling tug supply vessels (AHTSVs) under construction for a number of international owners.
"Our offshore winches have been specified for a run of new-series small and medium AHTSV developments in the 60m to 65m range," says Francis Wong, Director, Segment Sales and Marketing at MacGregor. "Most of these vessels have enhanced equipment and vessel specifications in response to the increased demands from charterers and oil companies in the South East Asia and Middle East regions. These include DP2 capabilities, increased bollard pull and more deck space. Our winches form an important part of these vessels' advanced capabilities."
The scope of deliveries includes windlasses, mooring winches, capstans, tuggers, anchor handling/towing winches and storage reels; some of the vessels will also be fitted with MacGregor shark jaws/towing pins. Deliveries will begin in August this year and will continue at intervals until March 2014.