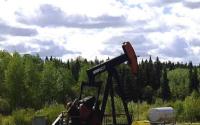 Madalena Energy Inc. announce the results of a 3 day production test of its most recent 100% working interest horizontal Ostracod oil well located at 1-32-55-7W5M in the Paddle River area of west-central Alberta.
The well reached a total depth of 3,250 metres, including a 1,380 metre horizontal trajectory. Completion operations included a 16-stage multi-frac program where a total of 4,800 barrels of water-based load fluid were pumped. The well was subsequently production tested for 3 days during which time the well flowed continuously and recovered a total of 3,120 barrels of load fluid (representing 64% of the pumped volume).
During the 3 day test, the well flowed at an average rate of 877 bbls/d of 30° API oil and 1.007 mmscf/d of natural gas for a total of 1,045 Boe/d (84% Oil). The test rate over the last 24 hours was approximately 788 bbls/d of oil and 1.092 mmscf/d of natural gas (on a 3/4" choke at a flowing wellhead pressure averaging 200 psi). After accounting for shrinkage and NGLs recovery at the local production facility, the test rate over the final 24 hours would equate to approximately 957 boe/d (87% oil & NGLs).