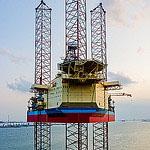 Maersk Drilling's fourth ultra deepwater drillship was named in a ceremony held at the Samsung Heavy Industries (SHI) shipyard in Geoje-Si, South Korea. Lene Berg, wife of Gregers Kudsk, Vice President in Maersk Drilling, had the honour of naming the drillship Maersk Voyager.
Maersk Voyager is the fourth in a series of four ultra deepwater drillships. The four drillships were ordered in 2011 and represent a total investment of USD 2.6bn.
Maersk Voyager is scheduled to be delivered from SHI in Q4 2014. Maersk Voyager remains without a first contract.