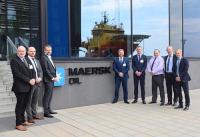 SIMMONS EDECO, supplier of wellhead and valve maintenance, asset integrity solutions and onshore drilling services to the global oil and gas industry, has announced that it has been awarded a major contract by Maersk Oil.
The contract requires SIMMONS EDECO to provide scheduled and unscheduled wellhead maintenance services for all Maersk Oil offshore wells in the Danish North Sea. In addition, SIMMONS EDECO is to refurbish valves and wellhead maintenance equipment, and manage major and consignment stock.
The five-year contract, which commenced on 1 June 2017, features three one-year options to renew. SIMMONS EDECO is supporting the contract from its new operations base in Esbjerg, Denmark, home to Maersk Oil's Danish Business Unit.
"We are pleased to have been given the opportunity by Maersk Oil to contribute to the smooth operation of their wells in the Danish North Sea, and look forward to working with them," says Gavin Sherwood, Business Development Manager for SIMMONS EDECO.
While SIMMONS EDECO has a long history of working in the North Sea, this is the first time the company has worked for Maersk Oil and in the Danish North Sea.