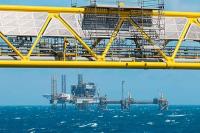 Maersk Oil has, on behalf of the Danish Underground Consortium (DUC), reached an agreement with the Government of Denmark which will facilitate future oil and gas investments in the Danish North Sea and protect industry jobs in Denmark. The agreement provides the terms that enable the DUC partners to progress a full redevelopment plan for the Tyra facilties towards a decision to invest in the project by the end of 2017.
Oil and gas have been produced from the Danish North Sea for almost half a century. Since 1984, Tyra has been at the centre of Denmark's national energy infrastructure, processing 90% of the nation's gas production.
The Tyra field requires redevelopment due to subsidence of the chalk reservoir which has led to the platforms sinking by around 5 metres in the last 30 years. This has reduced the gap between the sea and the platform decks. As a result, investment is required if the Tyra complex is to continue producing safely into the next decade.
A full redevelopment will restore the current infrastructure, including the gas processing hub and five surrounding satellite fields which include Harald and Valdemar and thereby ensure continued production from the Tyra field. Furthermore the new asset could enable future production of oil and gas volumes from the DUC license area as well as third party projects.
Maersk Oil's Chief Operating Officer, Martin Rune Pedersen, says, "The agreement makes the Danish North Sea a more competitive investment area for oil and gas companies to invest and to develop new opportunities. A redevelopment of Tyra can be a catalyst for prolonging the life of the Danish North Sea. It can protect valuable revenues to the Danish state and Danish jobs– especially in the Esbjerg area. We will now issue tenders and progress engineering work towards detailed plans in preparation of a final investment decision by end 2017."
Maersk Oil Chief Executive, Gretchen Watkins, adds, "Today's announcement reaffirms the commitment Maersk Oil has made to invest in the future of North Sea oil and gas and, in particular, in our heartland in Denmark. The recognition of shared value between government and industry in investments like the redevelopment of Tyra are a blueprint for the type of collaboration that will support value creation for decades to come."
The full redevelopment programme requires a resequencing of engineering activities versus the decommisioning and partial redevelopment scenario outlined to the gas markets on 30 December 2016. Maersk Oil today issued a further REMIT notice to the gas markets on behalf of all DUC partners outlining that, pending a final investment decision, production from Tyra is now expected to shut in December 2019 and restart in March 2022. More information on the revised schedule for a full redevelopment of Tyra will be made available on final investment decision later this year.
The agreement with the Government of Denmark is subject to Danish parliamentary approval.