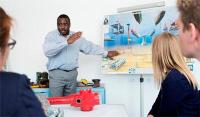 1 June 2015 Maersk Training entered into an agreement with Seadrill.
Seadrill has selected Maersk Training to deliver its Well Control training globally under the accreditation of The International Well Control Forum (IWCF).
The agreement will cover more than 2,000 assistant drillers, drillers, toolpushers, installation managers, derrickmen and subsea engineers when they need to renew their well control certification. It will give Seadrill a standardised training process, which previously involved more than 27 schools, and ensure improved safety and performance excellence.
David Gouldin, Drilling and Well Control Manager for Seadrill, said: "This centrally managed approach to the training, continuous improvement and accreditation of our crews will allow us to set the standard in well control training. This is a real game changer. No one else in the industry is doing anything like this, and it cements our position as an industry leader."
Maersk Training has doubled both its revenue and number of training centres in the last three years. It now offers training locally at world class training facilities in ten of the global maritime and oil production hubs in the world. This year, it has also signed agreements to supply training services to BP and Transocean.
"Our rapid growth reflects the oil and gas industry's push for improved performance and focus on safety and efficiency," said Maersk Training CEO Claus Bihl.