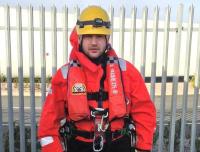 Local unemployed people are benefiting from new Careers in the Offshore Wind industry following their successful completion of a newly developed qualification offered by Maersk Training in Newcastle, designed to help them take advantage of job opportunities in the thriving UK offshore wind energy sector.
Following the success of a pilot Diploma course earlier this year, a number of people have recently obtained jobs with BostonEnergy. The various roles include working on Walney Offshore Windfarm in Cumbria and as Technicians on Offshore Siemens Wind Turbines.
"Tough economic times mean unemployment rates are high in our region. Encouragingly, the offshore wind energy sector is expanding at a very fast pace and there are numerous opportunities for people seeking employment and looking to get into a fast-growing industry, however learning these safety skills is a vital prerequisite. The recent Renewable UK Skills Manifesto estimates that by 2023 the sector will require an additional 70,500 skilled workers and clearly our qualification will go some way to filling the skills shortage in the sector", commented Stuart Cameron, Managing Director at Maersk Training.