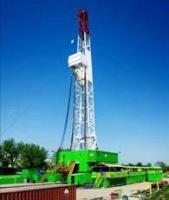 Red Emperor Resources NL says that the load-out of the Maersk Venturer drilling rig has been completed with the vessel now at the Hawkeye drilling location. Drilling will commence over the coming weekend once the rig has been accurately secured over the required drilling location.
As one of the most modern and advanced drill-ships in the world, the Maersk Venturer has the required capability to drill the Hawkeye-1 exploration well, with the drilling program expected to last 23 days. The exploration well has been designed to reach the top of target reservoir approximately 1,000m below the sea bed floor and intersect the gas oil contact to prove or otherwise the presence of the oil leg. Red Emperor intends to update the market weekly on the progress of operations.
The Maersk Venturer was commissioned in 2014 and was built at the Samsung Heavy Industries yard in Korea. Capable of operating in up to 3,600 metres of water and with dual drilling derricks, high capacity mud pumps and bed space for 230 personnel, the Maersk Venturer is one of the newest and most capable drill-ships in the world. The Maersk Venturer has recently completed work for Total Malaysia.