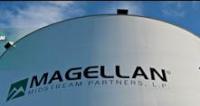 Magellan Midstream Partners, L.P. and Plains All American Pipeline, L.P. have formed Saddlehorn Pipeline Company, a 50/50 limited liability company, to construct, own and operate the Saddlehorn pipeline, an approximately 550-mile pipeline that will transport various grades of crude oil from the DJ Basin, and potentially the broader Rocky Mountain area resource plays, to storage facilities in Cushing, OK owned by Magellan and Plains. An extension to Carr, CO is also under consideration for connection to existing crude oil assets owned by Plains in that region.
"Magellan is pleased to work with Plains on the Saddlehorn pipeline," said Michael Mears, Magellan's Chief Executive Officer. "Aligning with Plains makes strategic sense due to their significant marketing and pipeline presence in this region, adding further value to the pipeline project to deliver crude oil to the Cushing hub."
"Plains is excited to partner with Magellan on the Saddlehorn pipeline project," said Greg L. Armstrong, Chairman and CEO of Plains All American. "The project is underpinned by ship-or-pay contracts with major producers in the area that protect our investment. Moreover, this arrangement provides us the opportunity to realize meaningful upside to base level returns by shipping additional volumes associated with PAA's marketing activities in the region."